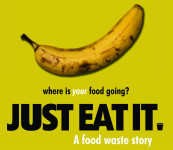 Just Eat It explores the topic of why we throw nearly 50% of all food into the trash. Join us to view this documentary, which brings farmers, retailers, inspiring organizations, and consumers to the table in a cinematic story that is both educational and entertaining. Snacks will be provided, and there will be plenty of time for conversation.
EEFC & 412 Food Rescue
Saturday, February 13th, 6 PM
Repair the World: Pittsburgh
6022 Broad Street Pittsburgh, PA 15206 (click for map)
This event is FREE, and RSVPs are not required!