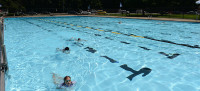 The City of Pittsburgh will open its 18 outdoor swimming pools on 
Tuesday, June 9
, and launch an initiative to encourage children 15 years and younger to learn to swim and enjoy Citiparks aquatic facilities throughout the summer thanks to an innovative approach by Citiparks in response to Council's efforts to promote free swimming for low and moderate income families with children.
City residents 15 and younger who register at Citiparks Recreation Centers can swim for free all summer.
Only children presenting valid Recreation Center membership cards will receive free entry to the Citiparks pools; all others will need to pay daily admission or purchase a yearly pool tag.  To receive the free admission, a parent must register each child – who must be 15 years or younger and a resident of the City of Pittsburgh – at any of the Citiparks' 10 Recreation Centers and then bring the membership card to the pool each day for entry. 
In addition, in 2015 the City will expand the opportunity for children ages 6 to 15 years old to receive free swimming instruction at all pools.
This summer Citiparks will offer free learn-to-swim classes at every pool location during a two-week period from June 22 – July 3 from 11 to 11:45 a.m. each weekday.  Spots are limited, so advance registration for this popular program is necessary.
Registration for free learn-to-swim classes will take place at each pool location.  Advance sale of pool tags and registration for classes will take place on Saturday, June 6, and Sunday, June 7, from 1 – 6 p.m. and on Monday, June 8, from 4 – 8 p.m.
Hours of operation for the outdoor pools are weekdays 1 – 7:45 p.m. and Saturdays, Sundays and holidays 1 – 5:45 p.m.

Individuals can purchase pool tags for year-round admission to Citiparks outdoor pools and the Oliver Bath House, which operates in the off season.  Cost of pool tags for City residents:  $60 for family of four; $10 for each additional family member; $30 for adult (16 years and older); $20 for seniors (60 years and older); $15 for youth (3 – 15 years old); free for child (2 years and younger). Family passes for active duty military and disabled veteran residents are at no cost.  For non-City residents the cost is $45 for adult or youth.  Those interested in purchasing daily admission can do so at any pool beginning on June 9.  Cost is $3 for children ages 3 – 15 and $5 for individuals 16 and older.