GGH-Flyer-10.7.15.pdf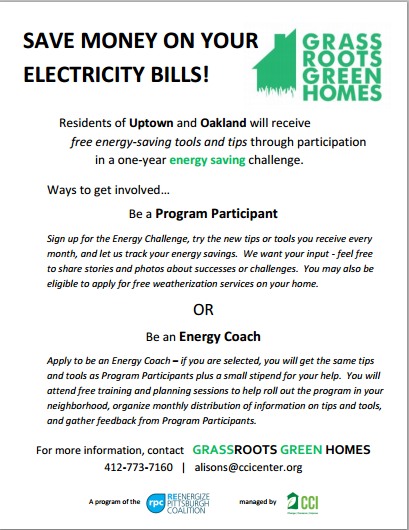 Announcing an energy and cost saving program – called Grassroots Green Homes – that Conservation Consultants, Inc. are trying to get off the ground in the neighborhoods of Uptown and Oakland.  This program will provide free energy saving tools and tips to participants – to help residents save money on their electricity and heating bills and reduce their environmental impact.
​They​
 are currently trying to get the word out about this program and generate interest in order to recruit community liaisons (Energy Coaches).  These Energy Coaches will help sign up participants for the program and be their point of contact throughout the year-long program.  
​They​
aim to have ten Energy Coaches who will receive training, support materials, and a small stipend to help enable and encourage energy savings for the 500 participants in the Grassroots Green Homes program.  More information is in the attached flyer.
​For more information about CCI check out their website at