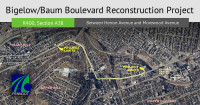 Traffic Advisory
Long-term Westbound Route 380 Closure begins

Thursday

 in Pittsburgh
Portions of Baum Boulevard, North Craig Street to Close for 91 Days
PennDOT District 11 is announcing a long-term closure of westbound Route 380  in the City of Pittsburgh, Allegheny County, will begin on Thursday, August 27 weather permitting.
Beginning at approximately 
4 a.m.
on Thursday
, westbound Route 380 (Baum Boulevard/North Craig Street) will close to traffic from the intersection of Melwood Avenue and Baum Boulevard to the intersection of North Craig Street and Bigelow Boulevard.  The long-term closure will occur around-the-clock for 91 consecutive days.  All westbound traffic will be detoured.
Posted detour
• Take Baum Boulevard to Liberty Avenue
• Follow Liberty Avenue to the Bloomfield Bridge
• Turn left onto the Bloomfield Bridge
• Turn right onto Bigelow Boulevard
• End detour
Motorists on Bigelow Boulevard at the intersection with North Craig Street can continue westbound on Bigelow Boulevard.
Additionally, eastbound traffic on Route 380 will be restricted to a single-lane from the Bloomfield Bridge to Melwood Avenue during the westbound closure.  Crews will conduct roadway reconstruction.