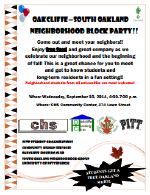 How do you follow up an event like the
Sept 6th South Oakland Community Day?
OAKCLIFFE – SOUTH OAKLAND NEIGHBORHOOD BLOCK PARTY!
FREE FOOD FOR ALL! – FREE T-SHIRTS FOR STUDENTS!
When: Wednesday, September 10, 2014 4:30-7:30 p.m.
Where: CHS Community Center, 374 Lawn Street
All South Oakland residents are encouraged to attend, as well as students from all schools.