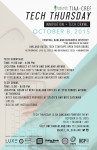 Tech Thursday will be a celebration of Oakland's startup and technology culture fueled by our world class universities and hospitals.  From 11 a.m. – 4 p.m., at the Fifth & Oakland Avenue parking lot, TIAA-CREF will be setting up an interactive exhibit as well as exhibits from UPMC, The University of Pittsburgh & CMU.
OBID will also partner with Revv Oakland, Oakland's first member driven community of startups, to host a "Tech Crawl" from 5:00 p.m. – 8:00 p.m. where 'crawlers' can explore Revv's offices home to over 18 startup companies – all while enjoying hors d'oeuvres and drinks. Revv Oakland is a company in the heart of Oakland that provides productive work environments for early stage companies. This event is sponsored by TIAA-CREF, LUXE Creative, Securitas Security Services USA and Dollar Bank.
Tech Crawl Locations:
*Revv Oakland – 3710 Forbes Ave.
NoWait – 122 Meyran Ave.
Stitch Fix – 115 Atwood St.
Institute for Entrepreneurial Excellence – 3520 Forbes Ave.
*Must be 21 years of age or older to attend the REVV OAKLAND location