March 5, 2013 the planning commission will be hearing from The Oakland Portal Project. Planning commission hearings are open to the public.
Click here to review the traffic study and responses to questions: Oakland Portal Phase 2 Response to City Comments 2-5-13.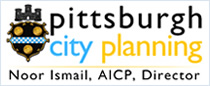 For more information on how the planning commission operates please click here:City Of Pittsburgh Planning Commission Home.