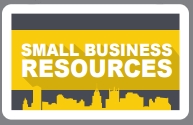 SBRF-RCI.pdf
Small Business Resource Fair
Monday, May 2, 2016  4:30-7:00 p.m.  
Riverside Center for Innovation
700 River Ave
Pittsburgh, PA 15212
Join exhibitors from non-profit groups and others all over Pittsburgh who can help you start or grow your small business! Learn about available assistance with your building,
your business plan, financing, mentorship, and other great opportunities for new and established small businesses. Exhibitors include local non-profits, financial institutions, and business consultants. This is a free event and most services
offered are free or very low cost. 
Light refreshments will be served.
Brief presentations at 5:30 pm
Check attached flyer for more info and