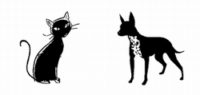 The Bureau of Animal Care & Control serves the residents of the City of Pittsburgh by providing care, control and resolution to situations dealing with domestic animals and wildlife. 
The Bureau of Animal Care & Control provides assistance to Bureaus within the Department of Public Safety, other City Departments and the Allegheny County Health Department in situations involving animals, both domestic and wild. The Bureau enforces City and State codes dealing with animals; issues citations and appears in court; helps to keep our City's parks animal-nuisance free; works with non-profit animal shelters; provides consultation to other municipalities concerning animal issues; and assists the Pennsylvania Game Commission in tracking the rabies virus. 
Animal Control Agents capture stray animals, assist in pet/owner recovery, resolve neighbor disputes over animals, assist the elderly and physically-challenged with animal concerns, advise and teach residents of their responsibility as pet owners, advise non-pet owners of their rights, and assist in the removal of nuisance wildlife. (Nuisance wildlife is defined as wildlife that causes, or is about to cause, property damage or that presents a threat to the health or safety of the community by means of disease transmission or direct attacks.) The Bureau also quarantines animals, provides removal of deceased animals and assists police and the District Attorney's office with humane investigations.