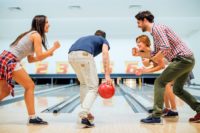 Pittsburgh is the most fun city in the northeast, a study from WalletHub concludes. 
"Absolutely, Pittsburgh really did represent well, especially for the northeast," WalletHub analyst Jill Gonzalez told KDKA money editor Jon Delano on Monday. 
Gonzalez says Pittsburgh ranks 14 out of 150 cities when it comes to entertainment, recreation, nightlife, and cost. 
Las Vegas, Orlando and Miami rank one, two, and three, but Pittsburgh beat out cities like San Francisco, Honolulu, and, of course, Philadelphia. 
Pittsburgh ranks high in many categories — like sports teams and public swimming pools — but one area stands out. 
"Pittsburgh ranks number one in terms of the access to bars so that's both the number of bars per capita and the number of bars per square mile," notes Gonzalez.