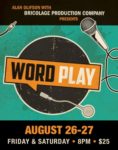 If you enjoyed OPDC's June storytelling event, check out WordPlay, presented by our friends at Bricolage Production Company at 937 Liberty Avenue.
Part "This American Life", part stand-up comedy, WordPlay brings the art of live storytelling back to the stage! With brazen honesty and creativity, actors, comedy writers, and everyday people read their own funny, and often poignant, stories while a DJ spins a real-time soundtrack. 
Bricolage's next WordPlay is August 26 & 27.