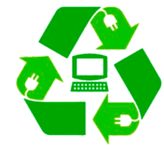 Cranberry Township Area Computer Recycling and Data Destruction Event – Saturday, September 24th 
Securely recycle your old computers this Saturday, September 24th. Commonwealth Computer Recycling (CCR) will be providing on-site hard drive shredding and recycling services this Saturday from 10am – 1pm at the St. Ferdinands Church. 
The following computer components will be accepted for FREE at this event:
Desktop, laptops, tablets, servers, hard drives (on-site data destruction will be offered for $10 per hard drive)
LCD (flat screen) monitors
Cell phones, Ipods, MP3 players, etc.
Computer peripherals include keyboards, mice, printers (< 50lbs), power supplies, motherboards / circuit Boards, cables, UPS batteries & backup systems, power supplies, memory, hard drives, computer fans, routers, switches, wireless routers, access points, bridges, firewalls, cabling, modems, KVM switches
Phones, phone systems
AC adapter & wiring
The following items will be accepted for a $10 DISPOSAL FEE:
Audio/video equipment
Radio, receivers, amplifiers, tuners, equalizers, tape decks
VCR, DVD & Blue Ray Players
Wooden speakers
Consumer/household goods
Sweepers, hair dryers, toasters, blenders, coffee makers, microwaves and other consumer electronics
Small Freon containing appliances including window air conditioners and dehumidifiers
The following items will NOT BE ACCEPTED:
Universal Waste
   Alkaline batteries
   Light bulbs
Large Freon containing appliances
TVs / CRT (old style) monitors
St. Ferdinands Church is located a 2535 Rochester Rd in Cranberry Township. CCR is Department of Environmental Protection permitted and an R2 certified Responsible Recycler. 
Portion of proceeds benefit Portion of proceeds benefit the St. Ferdinands Church. 
Commonwealth Computer Recycling LLC 
1628 Roseytown Road Unit 8
Greensburg, PA 15601