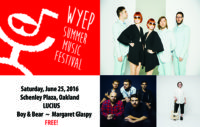 SCHEDULE 
3PM   WYEP REIMAGINATION SHOWCASE (Main Stage)
featuring HAT Co, Funky Fly Project, The Incandescents
I Made It Market  (Schenley Drive) 
Children's Activities (Schenley Tent)
Bike Valet by Bike PGH 
5:30 Margaret Glaspy

7:00 Boy & Bear

8:45 Lucius 

Family Activities 3:00 – 6:00 PM at the Schenley Plaza Tent. Participants include:
 Mattress Factory, Handmade Arcade, National Aviary,  Assemble, Pittsburgh CLO,  Kidsburgh, SNAP, The Sprout Fund, Pittsburgh Parks Conservancy 
Please take note of Schenley Plaza Rules: pets are not permitted on the lawn or plantscaped areas. Leashed dogs may be walked on paved areas only. No drugs or alcohol will be consumed on the lawn. Please consult Dining Guide at Schenley Plaza for more information. Thank you for abiding by these rules to ensure a safe, clean and enjoyable Summer Music Festival!