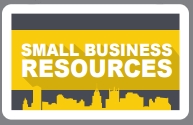 SBRF-Gov-16-Flyer.pdf
SAVE THE DATES:
FEBRUARY 22, 2016, JUNE 6, 2016 and SEPTEMBER 6, 2016
4:00-7:00 p.m. ! City-County Building, 6th Floor
414 Grant Street
Pittsburgh, PA 15219
Small Business Resource Fair.
The Mayor's Office in partnership with the URA will host a complimentary, government focused, Small Business Resource Fair. The purpose of the event is to oer small business owners in-person access to representatives from all relevant departments within city services (zoning, permits, ADA compliance, etc.). You will have the opportunity to have all of your questions answered ― all in one location. This event would be ideal for small business owners such as restaurateurs, retail owners, contractors, etc.
See attached flyer for more info,