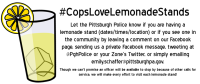 From Zone 4 Police:
Attention young Pittsburgh entrepreneurs: Are you hosting a lemonade stand before you head back to school in a few weeks? If so, we'd love to know about it!
The Pittsburgh Bureau of Police is excited to participate in #CopsLoveLemonadeStands!
We are asking our community to let us know if you see a stand or if your kids are having a lemonade stand. Send us the details of your lemonade stand (dates/times/location) or if you see one by leaving a comment on our Facebook page, sending us a private Facebook message, tweeting at @PghPolice or your Zone's Twitter account, or simply emailing
emily.schaffer@pittsburghpa.gov
. 
Though we can't promise an officer will be available to stop by because of other calls for service, we will make every effort to visit each lemonade stand!