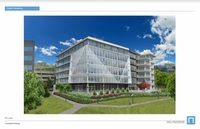 ​The URA has interest from a developer to build an office building inside the Pittsburgh Technology Center on 2nd Avenue. The proposal is for a 6-story 150,000 sf commercial office building. 
Their proposal to the URA, including results of community input process, are due September 15th, so they will be presenting at the South Oakland Neighborhood Group (SONG) meeting on Tue 9/5 at 6pm at Frazier Fieldhouse, with any interested members of the Oakcliffe Community Organization (OCO) attending as well. 
Check out the links below to see the attached drawings/tentative schedules for more specifics.