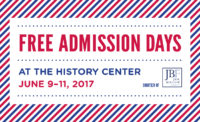 Visit the Heinz History Center on Friday, June 9 through Sunday, June 11 for FREE Admission Days, sponsored by the Jack Buncher Foundation. 
All visitors to the History Center, including adults, children, and seniors, will receive free admission throughout the weekend. 
Enjoy all six floors of the "Smithsonian's home in Pittsburgh," including its newest exhibition, #Pixburgh: A Photographic Experience. The exhibition showcases nearly 400 photos from the History Center's extensive collection, including many never displayed in public before.