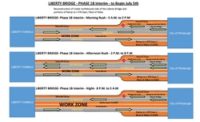 LibBridge1b.pdf
Liberty Bridge Deck Replacement Phase 1B begins July 5  
Inbound Liberty Bridge and Tunnel Closure Independence Day Weekend for Preparatory Work 
PennDOT District 11 is announcing the next phase of the Liberty Bridge deck replacement work in the City of Pittsburgh, Allegheny County, will begin Tuesday, July 5 (weather permitting). 
Preparatory work will occur from 8 p.m. Friday night, July 1 continuously through noon on Sunday morning, July 3 as the inbound (northbound) Liberty Bridge and Tunnel will close to traffic to allow crews to begin the phase change. Crews will be eradicating and painting lines, installing barrier, signs and message boards and shifting the overhead lane control system. One outbound (southbound) lane will be maintained on the bridge. Inbound traffic will be detoured. 
When prep work is concluded on Sunday, the afternoon configuration of two outbound lanes and one inbound lane will be implemented until Tuesday morning. 
Beginning at 5 a.m. on Tuesday, July 5, the inside northbound (inbound) lane on the Liberty Bridge will close to traffic for approximately 30 days as crews conduct deck replacement work. The currently closed, far right northbound lane on the bridge will reopen to traffic. The deck will be replaced one lane at a time through four separate work phases over the course of approximately 160 consecutive days. 
During each phase of construction, the traffic configuration will be changed three times each weekday (see attached PDF file).  
To allow each configuration to occur, a short traffic stoppage of 15 minutes or less will be implemented for each traffic switch. Crews will shift channelizers, cover signs and change message boards. 
The inbound (northbound) Liberty Bridge ramp to the Boulevard of the Allies reconstruction work will continue during this new phase. The ramp will remain closed and traffic will continue to be detoured. The ramp is anticipated to reopen by Friday, July 8.