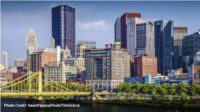 According to a new list by Niche, Regent Square is Pittsburgh's best neighborhood to live in for 2016. 
Niche says the rankings are based on crime, public schools, cost of living, job opportunities, and local amenities. 
Here's a look at Niche's top 10 best neighborhoods to live in Pittsburgh for 2016.
Regent Square
Squirrel Hill North
Point Breeze
Friendship
Swisshelm Park
Point Breeze North
South Oakland
Shadyside
Polish Hill
Squirrel Hill South