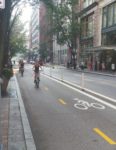 Bicycle.pdf
Pittsburgh City Planning to Hold Four Bike Plan Open Houses in July 
The Pittsburgh Department of City Planning is hosting four, city-wide Bike Plan Open Houses in July to kick- off their public process. There will be opportunities to learn about the internal city process, funding and project selection as well as places where they will look for feedback with multiple aspects of the plan. 
July 14, 2016 6:00pm – 8:00pm
South Side Market House, 1 Bedford Square, Pittsburgh, PA 15203 
July 18, 2016 6:00pm – 8:00pm,
Manchester Citizen's Corp., 1319 Allegheny Ave, Pittsburgh, PA 15233 
July 19, 2016 6:00pm – 8:00pm
Jewish Community Center, 5738 Forbes Ave, Pittsburgh, PA 15217 
July 25, 2016 6:00pm – 8:00pm
Pittsburgh Bike Share, 3328 Penn Ave, Pittsburgh, PA 15201 
You can also find and share the events through the Bike / Ped facebook page: 
Come anytime between 6pm and 8pm but give yourself enough time to cover all the material.