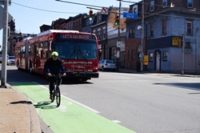 Recently, Pittsburgh City Council has adopted a Complete Streets Policy. As a part of that policy, a Complete Streets Advisory Board will be formed to advise the City on best practices and projects for more bike-friendly and walkable streets.
More information on the new policy can be found
here
. 
On the Advisory Board will be 4 resident representatives. The Department of City Planning is accepting applications for resident representatives.
The application can be found
here.