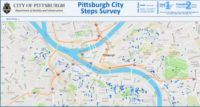 Pittsburgh City Wide Steps Assessment Meeting 
Thursday, July 27th, 6:00 p.m.
William Pitt Ballroom 
3959 Fifth Ave, Pittsburgh, PA 15213 
The City of Pittsburgh is currently engaged in an effort to assess City Steps in order to develop a way to strategically manage and repair these treasured assets. The Department of Mobility and Infrastructure (DOMI) will hold a public meeting on July 27, 2017 from 6-8pm at the William Pitt Ballroom to introduce the project and kick-off the public outreach component of the study. Please distribute this meeting notice to interested community members and groups.